OHS Code Changes Imminent
New Occupation Health and Safety (OHS) code changes are coming into effect March 31, 2023.
Back in December 2022 in a special edition of the OHS eNews, the Government of Alberta announced it would be implementing changes to parts of the OHS Code.
These changes will require employers across Alberta to review and update their health and safety manuals, as well as various other safety program elements to align with this change.
The Federation Health and Safety Working Group is working on updating the Health and Safety Management System Manual and program elements to align with this update. Notification will be provided to Members once the new 2023 Health and Safety Management System Manual and program elements are ready for download.
To learn more about the upcoming changes, click on https://ohspubstore.labour.alberta.ca/upcoming-legislation-changes.
Incident 1

Description: Employee was traveling on a highway with a truck and trailer (loaded with a backhoe) at approximately 4:30pm - just after sunset. The truck and trailer was driving in a straight line on a gradual incline for approximately 15km when the trailer suddenly began swaying side to side causing the trailer to break loose from the pintle hitch. This resulted in the loaded trailer breaking the safety chains and sliding into the ditch on its side (extensive damage to backhoe). The truck ended up in the opposite ditch, however it was not damaged. No injuries occurred as a result of the incident. Road conditions were extremely icy and visibility was poor due to driving in the dark.


Learning Outcomes:

Always drive to road conditions

All drivers to be trained and competent in load securement

Pre-inspect loads to verify the weight is distributed appropriately prior to transport

Ensure vehicle and trailers are rated for the weight capacity being transported

Check weather reports/road conditions prior to travel, don't drive in poor conditions

Recommend to use winter rated tires when temperatures are lower

Always keep an emergency winter kit in vehicles at all times during winter months

Incident 2

Description: A work truck was hauling a newly purchased trailer with a skid steer on it along a secondary highway. The ball hitch broke and the trailer disconnected from the truck. The trailer went into the ditch and was stopped by the snow. There was damage to the back of the truck, the safety chains and the trailer wiring. There were no injuries and no damages to other non-Co-op vehicles on the road.


Learning Outcomes:


The ball hitch was not rated for the weight of the trailer and loaded equipment
Ball hitches are not the proper type of hitch to use for this set up and it was mounted upside down because the truck was so low
Unit number was welded into the hitch which weakens them
The operator did not inspect the hitch before use or take into consideration that it was not rated for the load
The company did not relay any information to the staff about the weight of the new trailer and what hitch is needed
Equalizer hitch rated for 25,000 lbs will be used moving forward
Company went through all hitches and removed all ball hitches from service. Properly rated hitches were purchased
Safety Chat Group (Quarterly)

Next meeting on Thursday, April 13 @ 9:30 am

If you would like to attend, please send an email to bwood@fedgas.com and a Teams meeting invite will be forwarded to you for the next upcoming Safety Chat.

Or click the link below on the scheduled date and time

Voluntary Information Sharing System

The Voluntary Information Sharing System is online, with a chance to win a $250 Gift Card!

All companies that shared information using the voluntary information sharing system will be put into a random draw for a chance to win a $250 gift card of their choice for their organization.


Draws are to take place on a quarterly basis during safety chat group meetings.

One entry will be placed into the draw per submission.

A company representative must be present in the safety chat meeting to claim prize.
1st draw will take place during the Safety Chat Group meeting in April 2023. Invites will be sent closer to the date.

Information shared using the system will be used to help develop safety bulletins and guide safety newsletters which will be distributed to Member Utilities for prevention purposes.

All identifying information will be strictly confidential.
HSMS Manual Updates

New/Reviewed/Revised Documents
What was Updated?
Location of Update in Federation Website

HSMS Manual (2023) Update

Section 1.25-Training Policy-Updated
Section 7-ERP Plan-Updated
Section 8.12-Noise Exposure Policy-Updated
Section 8.15- PPE Policy-Updated
Section 8.17-First Aid Policy-Updated

HSMS Manual has been updated to align with the March 31, 2023 OHS Code update.

Updated OHS Code Sections

Part 11-First Aid, Part 15-Managing Control of Hazardous Energy

Part 16-Noise Exposure, Part 17 and 40-Overhead Power Lines and Electrical Utility Workers, Part 33-Explosives, Part 36-Mining, Part 37-Oil and Gas Wells and Miscellaneous Amendments

Health and Safety Management System Templates




HSMS Manual Folder

First Aid Kit Inspection Checklist form was updated to align with the March 31, 2023 OHS Code update.

Respirator and Hearing Protection Fit Test Form Created

First aid kit contents list was updated on the first aid kit inspection checklist form to reflect the new first aid kit content requirements based on the March 31, 2023 OHS Code update.

No previous fit test forms available to members, so a fit test form was created for member use.

Health and Safety Management System Templates

Forms Folder

H&S Working Group Meeting Minutes

2023-01, 2023-02, 2023-03

Uploaded recent H&S Working Group Meeting Minutes from January, February and March 2023.

Health and Safety Working Group Meetings

2023 Folder

SOP 3.3.18-Freeze Offs

COP 2.15.1-Respiratory Protection

COP 2.15.6-Working Near Overhead Lines

SWP 4.3.67-Working Near Energized Lines

Reviewed by H&S Working Group.
Added fit test procedures to Code of Practice 2.15.1.
Aligned with March 31, 2023 OHS Code update.
Condensed procedural steps.
Revised PPE requirements to align better with day to day operations.
Verified legislation references are current.

Health and Safety Management System Templates

COPS, SOPS, SWPS

THA 218-Freeze Offs

Reviewed by H&S Working Group.
Removed redundant and overused references.
Condensed procedural steps.
Revised PPE requirements to align better with day to day. operations.
Verified legislation references are current and updated review dates.

Health and Safety Management System Templates

Hazard Assessments - THAs

Various OHS Info Sheets relating to the March 31, 2023 OHS Legislation update added to the Resources section of Health & Safety page

Part 16-Noise Exposure (Updated)
Part 11-First Aid (Updated)
Part 15-Managing Control of Hazardous Energy (Updated)
Part 17-Overhead Power Lines (Updated)
OHS Info Sheets Added: Incident Reporting, H&S Programs, HSC/HSR

Posters and Info Sheets

Federation Memo - OHS Code Changes Effective March 31, 2023
H&S memo was issued to Members as a result of the upcoming March 31, 2023 OHS Code update.

Health and Safety Bulletins, Newsletters and Chats

Bulletins

Work Refusal Investigation Form Created
New work refusal investigation form created to help members with documenting work refusals and to help ensure the proper protocol is followed if work is refused.

Health and Safety Management System Templates

Forms
Federation H&S Working Group
Nominations Now Open
H&S Working Group Members gain valuable experience when it comes to safety committee formatting and processes. Being involved in the formal review of safety initiatives and documents gives members valuable insight into what goes into continuously improving a health and safety program.
New Health & Safety Working Group nominations are being sought from experienced Health and Safety personnel.
Nominees should possess an accreditation level in Health and Safety above the minimum requirement of the H&S Representatives as defined by Alberta OHS Legislation. (Accreditations: HSA, NCSO, GSC, CRSP, OHS diploma, OHS certificate, other)
Members are encouraged to nominate accredited employees via the nomination portal on the Federation website. Link:https://www.fedgas.com/federation-h-s-working-group-nomination-form
Safe Digging Month
April is Safe Digging Awareness Month
As per Utility Safety Partners (Formally known as Alberta One-Call), each year Albertans pay more than $350 million to repair damages caused when homeowners and contractors dig without knowing what is below. There is also potential for an even higher cost; contact with an underground utility can result in severe injury and death. All ground disturbers (contractors, homeowners and landowners) can save time and money - and keep themselves and our communities safe - by following ground disturbance and buried facility damage prevention Guidelines and Best Practices. Ground disturbance Guidelines and Best Practices include but not limited to:
Ensure locate is completed and valid for the area in advance of any ground disturbance project or activity,
Waiting for the buried facility locates to be done,
Respecting the locate marks,
Exposing any conflicting buried facilities before using mechanical excavation equipment and digging with care,
If task is near an area deemed to be high risk, it is recommended a review of the locate and hazards associated be completed with the excavator/contractor prior to ground disturbance.
3 working days advance notice required.
(Defines minimum number of days in advance of a digging project that you need to notify the one call center of your intent to dig.)
Locates are valid for 30 days unless otherwise stated by owner/operator.
(the maximum period of time the locate marks [paint, flags, etc.] are valid while they are maintained and clearly visible. Determined by regional legislation and best practices).

The Federation of Alberta Gas-Co-ops Ltd. fully supports Safe Digging Awareness Month and encourages all ground disturbers to always Call or Click Before You Dig.

Video Link: Safe Digging - Click Before You Dig – YouTube
Click before you dig link: ClickBeforeYouDig.com
Refer to COP 2.15.3, SOP 3.3.23 and THA 223 in the Federation HSMS templates for additional information.
April 28 Marks Day of Mourning
Marked annually in Canada on April 28, the National Day of Mourning is dedicated to remembering those who have lost their lives or suffered injury or illness on the job or due to a work-related tragedy.

The National Day of Mourning is not only a day to remember and honour those lives lost or injured due to a workplace tragedy, but also a day to collectively renew our commitment to improve health and safety in the workplace and prevent further injuries, illnesses and deaths.

How to Support
Traditionally on April 28th the Canadian flag has flown at half-mast on Parliament Hill and on all federal government buildings. Employers and workers have observed Day of Mourning in a variety of ways over the years. Some have lit candles, laid wreaths, worn commemorative pins, ribbons or black armbands, and paused for a moment of silence.

We encourage organizations, communities, and individuals to consider holding or supporting a virtual event, or simply pause at 11:00 am on April 28 for a moment of silence. These acts of remembrance help to honour the lives lost or injured due to workplace tragedy.

Sources: https://www.ccohs.ca/events/mourning/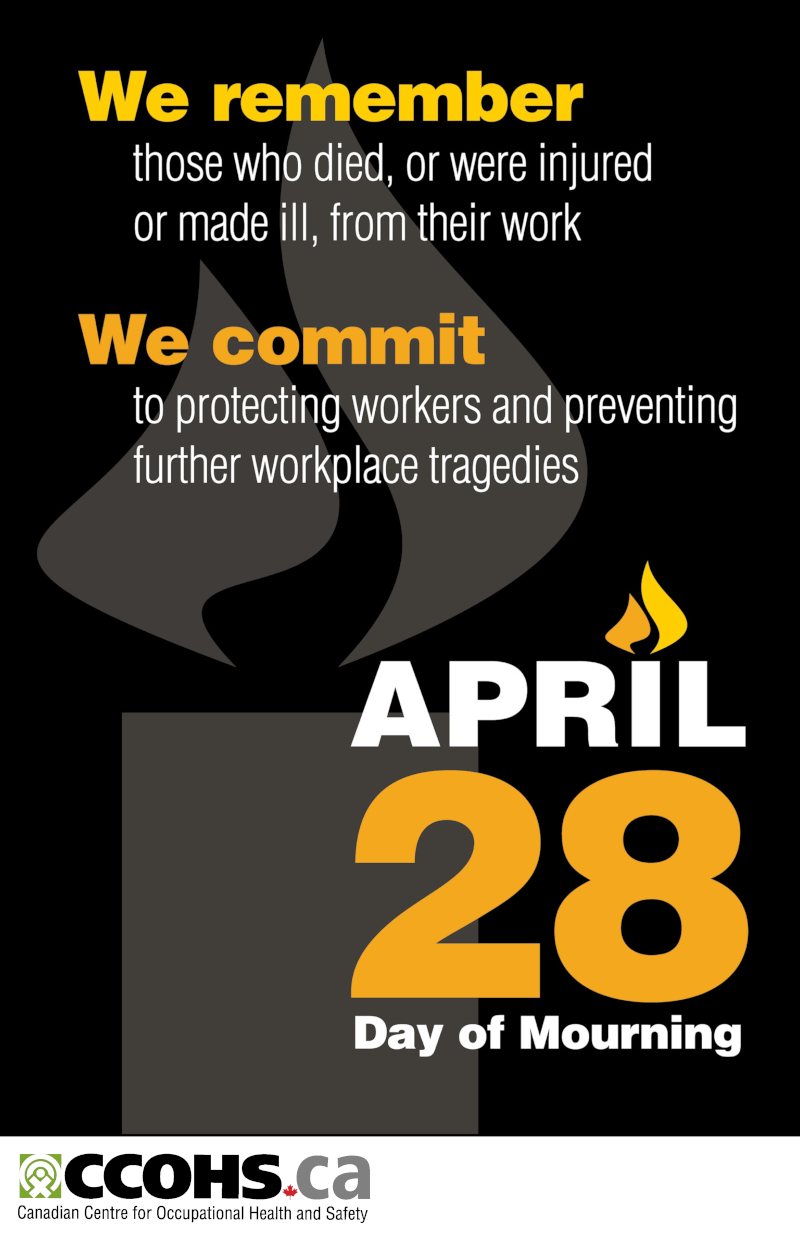 Safety and Health Week
May 1-7, 2023
Safety and Health Week (Formerly known as NAOSH Week) was first launched in June 1997.
During the North American Free Trade Agreement (NAFTA) talks, workplace safety within the boundaries of all three nations was discussed by each country's labour department representatives. Canada's representative at these talks was familiar with Canada's COHS Week (CSSE's Canadian Occupational Health and Safety Week) and suggested to his Mexican and American counterparts that their countries may wish to become involved in a similar endeavor. It was agreed that CSSE would adopt the North American concept and implement it in place of the Canadian Week, and it was deemed the proprietor and governing body.
How to Support

Promote Safety and Health Week throughout your organization. Try to build anticipation by promoting the event. Be as inclusive as possible in your promotion—you may need to consider multiple types of promotion if you have employees who work offsite
Consider ​launching a recognition program to reward health and safety suggestions
Consider creating a company safety calendar with reminders and tips
Consider implementing a safety at home campaign that focuses on emergency preparedness and health & safety requirements for routine tasks
Complete training sessions on seasonal topics and general awareness for safety program components (ex: return to work, incident reporting, emergency response, etc.)

Pre-Built HSMS Templates and Safety Program Elements

Ability to download and edit pre-built H&S manual, safe job procedures, safe work practices, hazard assessments, ERPs and much more

H&S Newsletter (March, June, September, December)

Quarterly newsletter sent out to Membership on behalf of the H&S Working Group which includes various OHS updates, initiatives and relevant safety information

Resources Section of H&S Website

Ability to review, download and revise various OHS resources. This section includes safety videos, info sheets, posters, useful links, pre-built ERP tabletops, pre-built HSMS orientations and more
Safety Bulletins

Issued on behalf of the H&S Working Group on a regular basis to spread prevention awareness between Members. All information is shared confidentially

Safety Chat Group

Opportunity to meet quarterly with the Federation H&S Specialist and other H&S Representatives from various Members to discuss safety and share valuable information collectively for the betterment of Members

Voluntary Information Sharing System

Opportunity to submit safety information for the benefit of the Membership. ​Information shared using the system will be used to develop safety bulletins and guide safety newsletters which will be distributed to Members confidentially for prevention purposes
Audit Your Health & Safety Program

Request a safety audit of your safety program that will identify strengths/weaknesses in your current HSMS program against an approved standard. The audit will provide feedback that identifies areas of improvement and strategies to ​strengthen these areas​

H&S Working Group

This group meets monthly and works on many actions that will benefit members, some of which include updates and revisions to the HSMS templates, developing H&S newsletters, facilitating safety initiatives and much more

Access to Support and Advice From a Dedicated Safety Professional

Ability to ask questions or get advice from the H&S Specialist anytime

H&S Specialist is part of the Canadian Gas Association (CGA) - OHS Committee. Relevant information is relayed to Members via H&S newsletters, safety bulletins and safety chats
All Federation H&S Services and Correspondences are available in the H&S section of the Federation website
To schedule safety services or for general assistance, please contact the Federation H&S Specialist by email bwood@fedgas.com or by phone (780) 220-9351