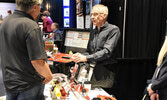 Trade Fair Exhibit Information
Exhibit Information, click to expand for more information about booking space.
Booth Information
Booth Size is 8' x 10' and includes an 8' backdrop black drapery, 3' side dividers black drapery, one white skirted display table with two chairs and a 600 watt duplex outlet.
Assignment of Booth
Booths are assigned on a first come - first serve basis. Please provide first, second and third choices of booth location. If your choice of location is not available we will contact you and an alternative location will be 
assigned.
Booth Cost & Payment
Each booth costs $700 plus GST and includes two participants.  Each additional participant is $150 plus GST.
Booths must be paid by November 4, 2022. Please make cheques payable to the Federation of Alberta Gas Co-ops Ltd.  If you wish to EFT the payment, please contact Allison Zinnick for more information.
Internet
WiFi - Free
Wired Internet Line - $150 including GST
Electrical Requirements
Any additional electrical requirements should be forwarded to the Display Co-ordinator, GES, with correct  amperage and voltage.
Security
Security will be provided by the Hotel during non-exhibit hours. The Federation will not be responsible for any loss or damages. Please contact your insurance company, as most insurance companies will provide extra coverage for such shows at a minimal cost to you.
Cancellation Policy
No refunds after November 04, 2022.
Federation Contact
Allison Zinnick
8429-24 Street  Edmonton, AB  T6P 1L3
Phone: 780-416-6538
Email: azinnick@fedgas.com
Trade Fair Hours
Monday, November 28, 2022 12 noon - 4:30 pm
Tuesday, November 29, 2022 11 am - 4:00 pm
Trade Fair Booth Set-Up
Monday, November 28, 2022 anytime after 8am.
Trade Fair Booth Removal
Tuesday, November 29, 2022 anytime after 4pm and by 7pm
Unloading/Loading/Parking
Direct outside access into the Grande Ballroom is between booths 6 & 7 (refer to map on the previous page). Door measurements is 9'5" high x 7'5" wide. Inside ceiling height - 12'
Material Handling Service
For a minimal fee, contact GES for the material handling service. The service includes accepting freight 30 days in advance, placement of display goods in booth, storage of empty containers, removal of display material, and arrangement for return shipment to customer's choice of address.
The Delta Hotels by Marriott Edmonton South is not equipped to store or handle heavy items, nor can they provide secure storage of your materials. 
Please review agreements before agreeing before ordering your booth.